Home

>

Onya Reusable Produce bags - 8 Pack Turquoise
Deadline for pre-Christmas order dispatch is 10am 18th Dec AEST. Order as early as possible to avoid courier delays.
ABOUT THE BRAND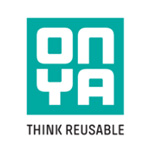 Onya have been pioneers in the war on waste for a decade, making use of discarded PET water bottles to recycle in to useful and long lasting products. Their reusable produce bags sparked a revolution. The same rPET matierial is also used to make bread bags, bulk food bags and some very studry sandwich wraps to use in place of a lunch box. Pop them in to your insulated lunch bag and the sturdy velcro straps hold everything in place.
UPLOAD YOUR OWN PHOTOS TO EARN ECO REWARD POINTS
---
Read 43 customer review(s)
Reviewed by Pam / (Posted on 21/09/2019)

Handy clip attaches to my shopping bag, so I always have them handy. The bags are very easy and quick to stuff back into their pouch too. I've had quite a few favourable comments from other shoppers and checkout personnel and have passed on where to buy them. Bag size good for our smaller family. Great product.

Reviewed by courtney / (Posted on 7/07/2019)

LOVE these bags - 8 is enough that I can have some in the fridge and still have enough to do another trip to the shops without running out. They are light and quality and will last a long time.

Reviewed by Kylie / (Posted on 5/03/2019)

I'm such a fan of these bags and so hate the flimsy plastic bags at the supermarket that I've had to buy a second lot as I use them for everything. 8 is about the right amount.

Reviewed by Georgina / (Posted on 4/11/2018)

This is my second purchase of these bags . Plastic bags are no longer necessary and people ask me all the time where I purchased them. Have bought a stack for Christmas gifts. They do weigh 10gms but it's minimal in the scheme of things!

Reviewed by Angel / (Posted on 22/10/2018)

I love these bags. Bought two lots for my and two lots for my parents. We now use them for everything... I've even used them for bulk buying nuts and legumes!

Reviewed by Jantina / (Posted on 19/09/2018)

I am delighted with these bags. All 8 fit snugly in their pouch which is small enough to fit into my handbag. So no danger of leaving these home when I go shopping!

Reviewed by fiorella De Bona / (Posted on 16/04/2018)

Very happy with the Onya reusable produce bags. They are a great size, with each bag holding enough produce for my family. The carry bag they go in is small and very convenient. Very happy to be decreasing my plastic usage by using these bags instead.

Reviewed by Ann Hazard / (Posted on 10/04/2018)

Excellent product. Easy to carry and ideal for produce - no significant weight.

Reviewed by Lizzie / (Posted on 10/04/2018)

Excellent product! Using a lot, including for storage in the fridge, not just at shops.

Reviewed by Julie Wilkinson / (Posted on 10/04/2018)

These reusable bags are the BEST! Not only are they great at the supermarket, but I left my mushrooms in them in the fridge and they stayed dry and fresh for a good couple of weeks! I gave one to my sister to try and she loves them too - she'll be ordering very shortly!! Seriously, just get them, they're so easy and light to keep on you. Best purchase I've made in a while!!

Reviewed by Elisss McLennan / (Posted on 10/04/2018)

Love these bags! It may only be a small dent in reducing the plastic our family uses but every time I do a fruit & veg shop we save at least 8 plastic bags ☺ The kids are conscious of their contribution too which is wonderful!

Reviewed by Nikki / (Posted on 10/04/2018)

These are great quality and pack down small so they're easy to carry around.

Reviewed by A Scarr / (Posted on 10/04/2018)

I love these. Have been using reusable shopping bags for years and always hate collecting those plastic produce bags for which I seem to have no other use. The convenient carry case sits nicely in my handbag ready for use any time. Bags are super light weight so they don't increase your grocery costs. I highly recommend these.

Reviewed by Rowena / (Posted on 10/04/2018)

fantastic product - so easy to use, easy to clean and last for ages. I get people at markets every week asking about these and am now buying them for family members as well!

Reviewed by Kylie / (Posted on 10/04/2018)

Love the coloured carry bag with clip to help ensure you remember the bags. Good quality material, good size, fits a fair amount of produce in. I'm always grabbing extra fruit for school lunches so this will save throwing out plastic bags

Reviewed by Loretta Brooks / (Posted on 10/04/2018)

Such a lovely product it feels so good to have these in my shopping kit so I don't have to use any plastic bags when I do the groceries now!

Reviewed by Courtney / (Posted on 10/04/2018)

Love this product

Reviewed by Brian Bell / (Posted on 10/04/2018)

Service and purchase was easy. Product (ONYA reusable product bags) is great.

Reviewed by Lisa Flew / (Posted on 10/04/2018)

these reusable produce bags are fantastic, keep the veggies lovely and fresh, easy to wash if need be, and saving us from throwing out heaps of plastic bags. :-)

Reviewed by Saryn / (Posted on 10/04/2018)

Love love love. So easy to use. Love that they're made from recycled plastic bottles too!

Reviewed by Vanessa Wardle / (Posted on 10/04/2018)

I love using these instead of plastic produce bags. I keep them with my reuseable shopping bags and always have them on hand. They are easy to wash and hold a good amount of produce.

Reviewed by Therese Barnes-Matthews / (Posted on 10/04/2018)

I absolutely love my Onya Bags, keep them in my hang bag so very convenient. I have already used them multiple times. Also good to get bread rolls from the bakery in. Totally awesome product!

Reviewed by jo / (Posted on 10/04/2018)

These bags are a great investment. They are strong and a great size. Very happy that I've purchased these.

Reviewed by Jenni Sullivan / (Posted on 10/04/2018)

These bags are so easy to carry in my bag and I feel so good when I use them by doing my bit for the environment.

Reviewed by Kelly Ashton / (Posted on 10/04/2018)

LOVE this product. The bags are light yet strong, and have a handy clip so harder to forget to bring them with you

Reviewed by Melina Hale / (Posted on 10/04/2018)

Fantastic product. Looks great, easy to use and such a handy little pouch! Makes it easy to be more environmentally conscious

Reviewed by Sue / (Posted on 10/04/2018)

Small and light but big enough to hold everything I need. Easy to carry around too

Reviewed by Elizabeth McIntosh / (Posted on 10/04/2018)

Sturdy and large enough to hold produce for a family of six. Heartening to know that I can feed my family without unwittingly killing our ocean life.

Reviewed by Helen Drew / (Posted on 10/04/2018)

I found these bags REALLY helpful in trying to reduce the number of plastic bags being used. As others have mentioned, it can be a bit hard to get them all back in the holder, but it's a small price to pay for the environment.

Reviewed by Robyn Rylands / (Posted on 10/04/2018)

I bought the produce bags. They are fantastic. I leave the vegetables in the bags in the fridge. The vegetables keep fresher longer. It was money well spent.

Reviewed by Julia Buckle / (Posted on 10/04/2018)

Great idea. I have only used a couple of times so far but so far so good. The carry bag could be a little bigger as you really have to squeeze them in. Love not wasting those plastic supermarket bags anymore

Reviewed by Lina Carbone / (Posted on 10/04/2018)

Great product, easy to use and clean. Handy size to fit in my handbag so I always have them on me. Lightweight and makes you feel good to know you are using recycled products rather than further contributing to landfill!

Reviewed by Jade Adey / (Posted on 10/04/2018)

Love these bags! They are nice and strong for heavy fruits and veggies and very fine for loose leaves etc. love saving plastic every time I shop!

Reviewed by Gail Pimm / (Posted on 10/04/2018)

These bags are great - no more plastic for our fruit and veg - I am even storing some veges in the fridge once I get home in these. I would recommend this product.

Reviewed by sarah mcwilliams / (Posted on 10/04/2018)

Love love love As I've gone throw away plastic free this year I could wait for my Onya Resueable produce bags to arrive and they haven't disappointed me if your thinking of buying these bags I know you will love them

Reviewed by Charlene Van Ravenstein / (Posted on 10/04/2018)

Yet to use them, but it appears to be very good quality. Can't wait to use them. Only downside is that all 8 bags really don't fit in the pouch. I've tried suggested methods but the maximum I can fit is 5. Other than that these are great!!

Reviewed by michelle / (Posted on 10/04/2018)

I love my new bags! They fit a good amount of fruit and vegies in them and I am thrilled that I now have an alternative to the dreadful plastic bags. Imalso love how they squish up into the little carry pouch and take up very little room in your bag....so I always have them with me. Very happy here!

Reviewed by Jacqui Clark / (Posted on 10/04/2018)

Great product. The individual bags are light weight stretchy and hold a lot of produce. They fit into the little carrier bag very neatly and with the carabina attachment you can attach them to your shopping bag or keys so they are always with you. Highly recommended.

Reviewed by Angela Whiteley / (Posted on 10/04/2018)

Love these! Everywhere I go I have been asked where I got them. 😊 The great thing is they are made out of recycled bottles. I know me using these is saving our household from having to chuck out normal plastic. (I hate the thought of all the waste and damage all the bags are doing to our world) I can soak all the fruit and veg in vinegar wash and then everything in the bags straight into the fridge.

Reviewed by Chantel Farmer / (Posted on 10/04/2018)

So happy I purchased these bags! If I can avoid using plastic bags I will!!

Reviewed by Cat / (Posted on 10/04/2018)

Love this product. I couldn't fit the 8 bags in the pouch you sent. I think you might need bigger pouches or send two pouches.

Reviewed by Emma Dennis / (Posted on 10/04/2018)

I am so impressed with the quality of these bags. I have tested them out and they are able to hold a decent amount of veggies/fruit in each bag. Am going to buy my mum a set so we can both eliminate our use of plastic bags!!

Reviewed by Christine Johnston / (Posted on 10/04/2018)

Can't wait to try these