Home

>

Onya Reusable Produce bags - 5 Pack Chilli
ABOUT THE BRAND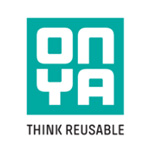 Onya have been pioneers in the war on waste for a decade, making use of discarded PET water bottles to recycle in to useful and long lasting products. Their reusable produce bags sparked a revolution. The same rPET matierial is also used to make bread bags, bulk food bags and some very studry sandwich wraps to use in place of a lunch box. Pop them in to your insulated lunch bag and the sturdy velcro straps hold everything in place.
UPLOAD YOUR OWN PHOTOS TO EARN ECO REWARD POINTS
---
Read 19 customer review(s)
Reviewed by Hannah / (Posted on 24/09/2018)

These bags are just fantastic. Beautiful quality and such a great gift idea.

Reviewed by Ms. Lisa Vaccaro / (Posted on 10/04/2018)

another great idea that has finally 'caught on'.

Reviewed by Cathy Smith / (Posted on 10/04/2018)

I love these bags. They are very easy to use. The trick is remembering to have them in your car when you go shopping. They clean easily. The only thing I don?t like is how hard they are to pack in the little carry bag.

Reviewed by Claire Deane / (Posted on 10/04/2018)

These are fab. They are light, compact and easy to store. The clip is handy and it feels so good to not use plastic bags.

Reviewed by Koby Rizza / (Posted on 10/04/2018)

These have made a fantastic addition to the eco-friendly Christmas hampers I am putting together for friends and family! Beautifully packaged and I've also bought a set for myself which I use every weekend at the farmers market!

Reviewed by Vaniece Kelly-Howe / (Posted on 10/04/2018)

The little pouch is so handy to keep in the car with my shopping bags. I love this alternative to single use plastic produce bags. You can wash the produce, bag and all, also keep your fruit and veg in the bags in the crisper. Quick to wash and dry. The 5 pack is just enough for our family of four, but I am happy to put things like a hand of bananas straight into the trolley and I shop small and often :)

Reviewed by amy wilkinson / (Posted on 10/04/2018)

theee are a great for the fruit shop ... storing my spinach leave, green beans.. plus leaving them in the bag in the fridge makes them <EOL>last longer i believe.

Reviewed by Fiona Croaker / (Posted on 10/04/2018)

These little beauties arrived quickly and are the perfect size. They have kept my veges super fresh and I have cut down on so much plastic at the market. I'll be buying more for my family so would totally reccomended them.

Reviewed by Kelly Ashton / (Posted on 10/04/2018)

Love these bags - strong and light, and come with a handy clip so I'm less likey to leave them at home. Have recommended to family too

Reviewed by Kathryn Luciano / (Posted on 10/04/2018)

I bought myself a pack of the Onya Produce bags & have been so pleased with them I purchased another 2 packs, one for my daughter & one for my sister for their upcoming birthdays. I know they'll love them as much as I do.

Reviewed by Elara / (Posted on 10/04/2018)

First time I used one the cord came out, so I had to fiddle with getting it back in when I got home. Also hadn't realised that there wasn't a clip, you just have to tie the bag. But they are light and handy for produce.

Reviewed by cathy phillips / (Posted on 10/04/2018)

Bags are great onl6 cokmplaint is the little carry bag is too small to fit the 5 bags in

Reviewed by Kerry Ferroni / (Posted on 10/04/2018)

I really like these little bags. They are a bit difficult to squeeze into the small carry bag but I like the carabiner on the bag....I can clip all my shopping bags together. Love that I am not using plastic bags for my fruit and veg.

Reviewed by Jayne Nillsen / (Posted on 10/04/2018)

Brilliant idea and works so well. Great service. Only one slight hitch the bag they go in is little smaller than should be to tuck it all in easily but excellent otherwise

Reviewed by Danika Coccaro / (Posted on 10/04/2018)

These bags are fantastic. They have actually made my leafy greens last longer because they are a fine mesh that allows the oxygen in. They are very sturdy, wash well and don't take up much room.

Reviewed by Clemence / (Posted on 10/04/2018)

Very easy to use at the shop, i keep the veggies in the bags in the fridge so they stay fresh longer, and they go in the washing which is perfect.

Reviewed by Robyn / (Posted on 10/04/2018)

Love them. Key them in their small pouch in my handbag or use the supplied clip to hook them onto my reusable shopping bags so I never forget them.

Reviewed by Madeleine Dutton / (Posted on 10/04/2018)

Great product! So handy for the supermarket, also good to use as snack carry bags.

Reviewed by Julie Wickham / (Posted on 10/04/2018)

Not sure why we didn't purchase these wonderful produce bags earlier - we should have - all that plastic now in landfill. High quality bags and exactly what we expected. We will be getting some more.