Home

>

Dental Lace Natural Silk Floss - 60m Blue
ABOUT THE BRAND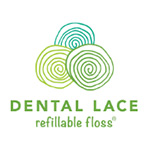 Dental Lace produce natural dental floss in plastic free packaging. For a 100% plastic free experience, choose the silk floss. For a vegan alternative that's almost plastic free, choose the vegan option. Please note, while the packaging is plastic free, the floss is not completely plastic free.
UPLOAD YOUR OWN PHOTOS TO EARN ECO REWARD POINTS
---
Read 9 customer review(s)
Reviewed by Grace / (Posted on 14/01/2020)

Lovely floss to use. Beautifully packaged with eco friendly materials. The floss is breakable at times, unlike plastic floss, but that only happens occasionally, I'm very happy with it. I bought some for a friend as a gift, given the beautiful presentation and eco credentials, she also is thrilled to be able to compost rather than bin the used floss.

Reviewed by Courtney / (Posted on 7/07/2019)

I love the little jar this product comes in, and that the second roll comes in compostable packaging instead of plastic is just great! The floss takes some adjusting to get to use if you are use to the plastic style but it is worth it.

Reviewed by Amy / (Posted on 14/06/2019)

I don't feel guilty flossing my teeth anymore as this product is plastic free. Works just as well as normal floss. Love the handy little case it comes in too!

Reviewed by Deborah / (Posted on 14/03/2019)

Really pleased with the product. I have sensitive gum, which tend to bleed easily, so I am always a bit anxious using dental floss. I was very happy to find out this floss glides easily between the teeth, and does not hurt my gum. I actually had no gum bleeding at all using it.

Reviewed by Liz / (Posted on 27/02/2019)

Very good. Would prefer to be finer but am happy with it's environmental profile.

Reviewed by Tamarah / (Posted on 8/11/2018)

the floss is great, But I too dislike how the second floss comes in plastic packaging , not sure If i'll re purchase because of this.

Reviewed by Maree / (Posted on 6/11/2018)

Feeling guilty about the single use then disposal of plastic floss and the damage to sea life etc etc, I tried these. I have to say the floss isn't as smooth to use as the plastic type, but works well. Its just a bit of a different feel but still effective.

Reviewed by Danny / (Posted on 18/10/2018)

The floss is great. As someone trying to buy plastic free, my only issues was that the 2nd floss came packed in a plastic sleeve.

Can this be fixed for future purchases?

Reviewed by Prue / (Posted on 12/09/2018)

I love the sustainability of this product along with the actual dental floss!
---
Most Recent Blogs