Home

>

Crystal Rock Deodorant Stick - 100g Unscented
ABOUT THE BRAND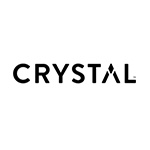 UPLOAD YOUR OWN PHOTOS TO EARN ECO REWARD POINTS
---
Read 12 customer review(s)
Reviewed by Joanne Smyth / (Posted on 10/04/2018)

I have only recently started using this stick, but so far (and we have had some hot days) it has worked brilliantly! It doesn't stop me from sweating, but I do not smell at all for the whole day! <EOL>Application was a bit of getting used to as it leaves no traces of adhering to skin, so I was very nervous the first couple of times I wore it that it would work, but it has not let me down!

Reviewed by Susanne Goodhew / (Posted on 10/04/2018)

I purchased this for my Dad as he doesn't use normal deodorants due to the chemical factor. He has reported that he is very happy with the product as it's all natural, plus we are happy as he no longer has BO!

Reviewed by Katie Humphries / (Posted on 10/04/2018)

After making my husband try MANY different natural deodorants, I think we've found a winner. He finds this one easy to apply (he wasn't a fan of the pastes), I'm happy that it's unscented, it doesn't irritate his skin, and it should last for a very long time and will therefore be very good value for money. On top of all that, it stops the unpleasant odour all day (even on the 40 degree days we've been having lately) - and he is someone who gets pretty stinky!

Reviewed by Mark Penningh / (Posted on 10/04/2018)

Best under arm deodorant ever

Reviewed by Corey Grant / (Posted on 10/04/2018)

Great communications, fair pricing, quick delivery. Thoroughly recommended.

Reviewed by Shane & Kelly-marie Rodgers / (Posted on 10/04/2018)

I sweat alot, this works surprisingly well, make sure you add it straight after your shower and it works all day long. I use this with the Mens Cobalt Sky Spray. The wife loves it.

Reviewed by CassieJ / (Posted on 10/04/2018)

Fantastic product. Have been searching for years for an effective deodorant for my husband. This leaves no yellow marks and works all day, no issues. Highly recommended

Reviewed by Stephen D / (Posted on 10/04/2018)

Good product, no irritation to skin and works well.

Reviewed by Peter Katsigiannis / (Posted on 10/04/2018)

Hi, I recently purchased the Crystal Rock Deodorant stick and so far it is brilliant. I am actually sweating less than I was with the regular underarm deodorant sprays. There are no stains on my shirts either. So far so good. It will also last a hell of a lot longer than the spray cans. So, not only is it working better than the deodorant spays, its going to save me a lot of $$$ as well. <EOL> <EOL>Cheers <EOL> <EOL>Pete

Reviewed by Jeanne Houston / (Posted on 10/04/2018)

Delivered quickly and in good condition. Deodorant is superior to other non-aluminum products I have tried. The case does not break if dropped and when the stick reduces in size with use, it does not drop out of It's container--which has happened with other deodorants. And it works!

Reviewed by James Hudson / (Posted on 10/04/2018)

Does what it says on the box

Reviewed by Michelle / (Posted on 10/04/2018)

The Crystal Rock deodorant is an excellent and safe alternative to commercially made deodorants and lasts forever! I use it daily and it works wonders.