Home

>

Bee Green Wraps Beeswax Food Wrap - 4 Starter Pack - Fruit
ABOUT THE BRAND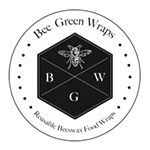 Quality on a budget, our beeswax wraps from Bee Green come wrapped in a fuss free cardboard sleeve and are made using 100% cotton fabric and organic beeswax. Replace single use sandwich bags and cling film.
UPLOAD YOUR OWN PHOTOS TO EARN ECO REWARD POINTS
---
Read 6 customer review(s)
Reviewed by Aimee / (Posted on 6/02/2019)

I'm loving using these wraps, particularly for cheese (the main reason I got them). I have always hated cling wrap and I'm so glad I tried these. Would definitely buy again. They do seem less intensely sticky to touch as some other brands (which I personally love) but they still stick just fine and they don't have a strong waxy smell. Love them!

Reviewed by Debbie / (Posted on 8/01/2019)

So handy and a great way to reduce your cling wrap usage.

Reviewed by Alexander / (Posted on 12/12/2018)

These are brilliant for wrapping around block cheese! No more plastic wrap and no more nasty, mouldy, surprises!

Reviewed by Tiffany / (Posted on 27/11/2018)

I got these as a trial to see how they work and what sizes would be best for my needs. I LOVE using them and seeing the noticible difference is kitchen waste. So giving them as presents to family this christams to help them also reduce plastic waste.

Reviewed by wei ling / (Posted on 28/10/2018)

Good quality !

Reviewed by Eugenie / (Posted on 24/09/2018)

We've been meaning to try beeswax wrap for awhile but didn't know where to begin. This set was just perfect to try and my girls are really happy for their sandwiches wrapped in the pretty pattern cloth. We just have to be careful to place it on clean surface otherwise everything sticks to the waxy cloth - not that it's a big problem as we only have to brush things off quite easily.
---
Most Recent Blogs
How to care for your beeswax wraps

Beeswax wraps are a natural and eco friendly option to help you rid your kitchen of single use plastic, and the combination of beeswax, tree resin and organic jojoba oil can help to keep certain fresh foods fresher for longer...